Sell our Ice Cream
At Pastures Moo we are serious about wholesale. It is true that we sell our delicious handmade ice cream direct to the public, but supplying local restaurants, cafes, farm shops, along with independent retailers, is also an integral part of our business.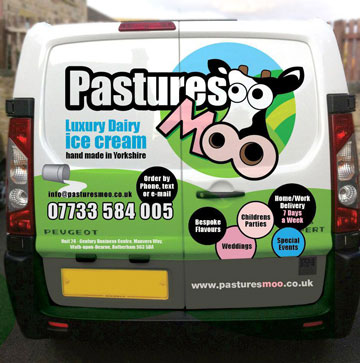 We currently offer twenty one flavours ranging from traditional Vanilla to more exotic flavours like Mango, which are all available in a range of sizes.
We also offer a bespoke flavour service. Because we make our ice cream in small batches, we have the flexibility to create and produce bespoke flavours made to your specification.
We can then arrange delivery of your ice cream in our temperature controlled freezer van to ensure that your ice cream reaches you in perfect condition.
If you are interested in finding out more about how we can work together, then we would love to hear from you.
Please do not hesitate to contact us on 07733 584005 to discuss your requirements.